Adam Cianciarulo earned his first overall win of his professional motocross career at Budds Creek MX. We've got the official release from Pro Circuit.
Official release from Pro Circuit. Photos: credit to Kawasaki.
MECHANICSVILLE, Md. (August 20, 2017) – Monster Energy Pro Circuit Kawasaki's Adam Cianciarulo rode as the team's only effort at Budds Creek Motocross Park and rose to the occasion, capturing his first moto win on the way to his first career Pro Motocross overall win. With all his teammates on the sidelines with injuries, Cianciarulo earned the team its fourth win of the season at Round 11. Joey Savatgy had lined up for practice, but after going down decided to sit out of the afternoon motos.
Cianciarulo had been close to an overall finish earlier in the season and during a hot and humid round in Southern Maryland, he made his win look easy. In Moto 1, Cianciarulo earned his third straight holeshot at Budds Creek (he earned both in 2016) and rode away from the field, leading every lap as he crossed the finish line for his first career moto win. Moto 2 saw Cianciarulo just miss the holeshot, but stayed close to the front pack in the opening laps. With the front pack close together, he overtook second on Lap 12 and his 1-2 moto scores earned Cianciarulo his first ever overall win.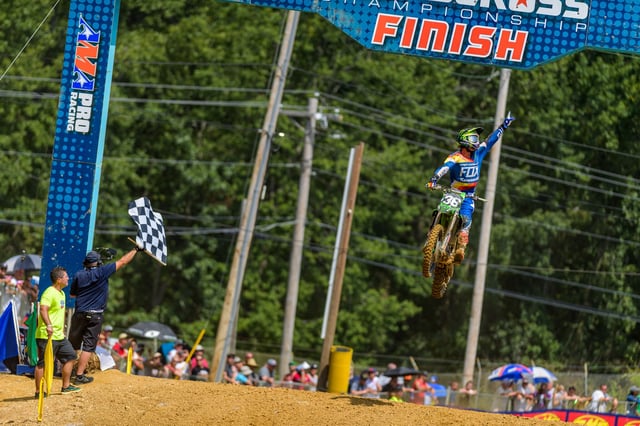 "It was pretty emotional to get that first moto win and then to get the overall was the best feeling," said Cianciarulo. "To be so close and not able to even podium has been tough to swallow, but I never gave up. I have an amazing group behind me encouraging me and pushing me to be better. It's great to keep the good results going for the team. We'll see what happens next week, but I think we've found something and will hopefully have a great final round."
250 Class Results (Moto Results)
Adam Cianciarulo, Kawasaki (1-2)
Zach Osborne, Husqvarna (8-1)
Shane McElrath, KTM (4-3)
Jeremy Martin, Honda (2-6)
Aaron Plessinger, Yamaha (5-4)
RJ Hampshire, Honda (3-7)
Colt Nichols, Yamaha (7-5)
Chase Sexton, Honda (9-9)
Kyle Cunningham, Suzuki (6-12)
Mitchell Harrison, Yamaha (11-10)

250 Class Points, After 11 of 12 Rounds
Zach Osborne, Husqvarna, 451
Jeremy Martin, Honda, 387
Adam Cianciarulo, Kawasaki, 330
Joey Savatgy, Kawasaki, 324
Aaron Plessinger, Yamaha, 319
Dylan Ferrandis, Yamaha, 305
Alex Martin, KTM, 296
Colt Nichols, Yamaha, 265
Mitchell Harrison, Yamaha, 250
Shane McElrath, KTM, 248