The 2018 Supercross season has been full of ups and downs, but the JE-powered riders of Monster Energy Pro Circuit Kawasaki and Autotrader Yoshimura Suzuki put it in hard work and consistent rides to finish the season on a high note.
Official release from JE Pistons
CYPRESS, Calif. – Adam Cianciarulo, rider of the JE Pistons-powered No. 92 Kawasaki KX250F for Pro Circuit Racing, closed out the 2018 Monster Energy AMA Supercross season in style by picking up his first win of the year Saturday night in Las Vegas.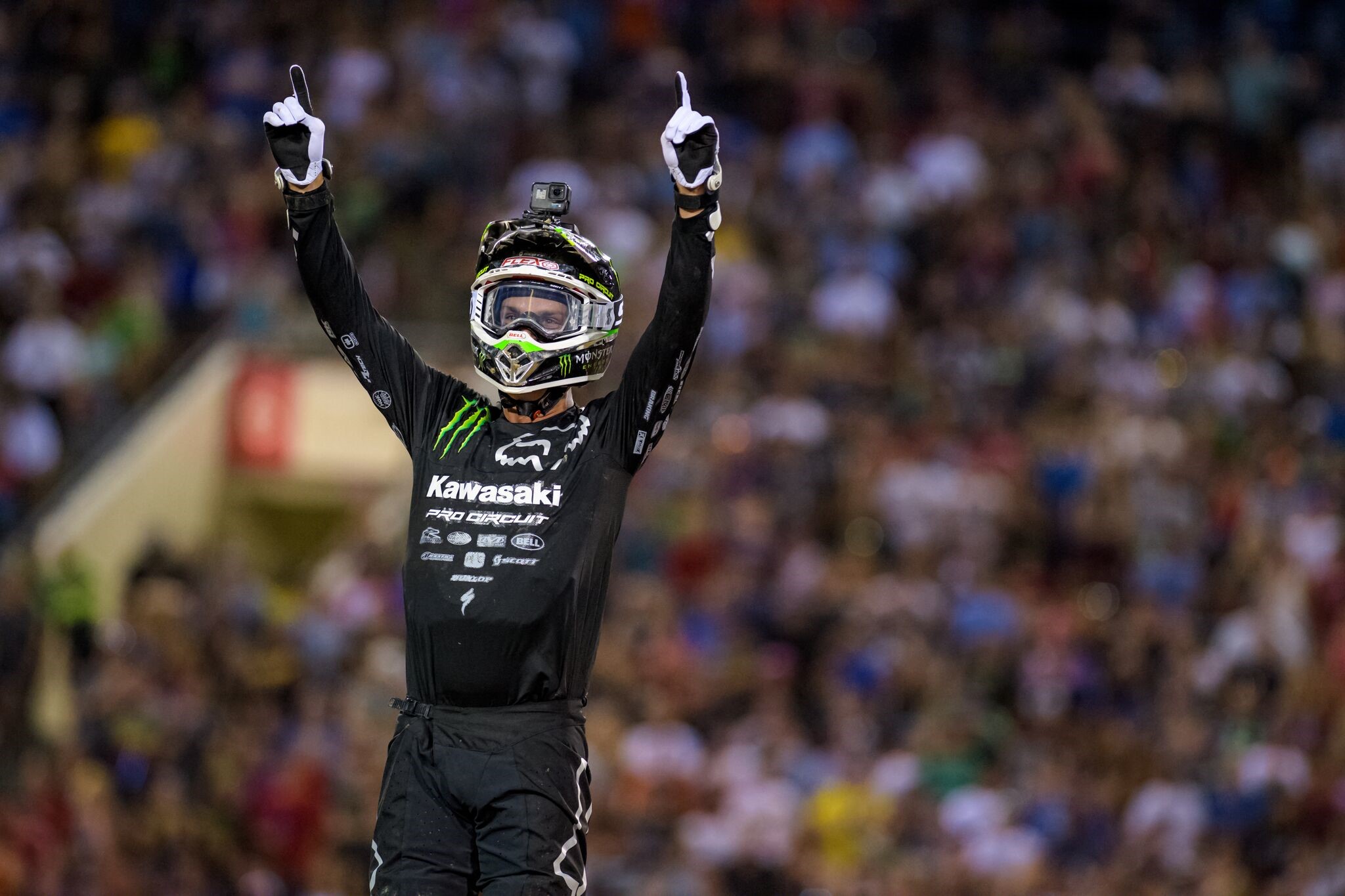 The win was bittersweet for Cianciarulo and likely the only one of the year after the Port Orange, Fla., rider announced he'd most likely be sidelined from competition for the rest of 2018 and is scheduled to undergo surgery to repair a torn Anterior Cruciate Ligament (ACL).
Despite racing with an injury that has dogged him for over a year, Cianciarulo still tallied one win, a trio of runners-up and seven top-three finishes, closing out the Western Regional 250SX Class Championship second in points.
The 21-year-old didn't get the jump off the starting gate he was looking for and rounded the first corner eighth in the running order but from that point on, Cianciarulo was dialed in for the main event and made his way to the front. He was fifth by the end of the first circuit and inside the top three two laps later.
The 2017 Eastern Regional 250SX Class Championship runner up, didn't waste time picking up the remaining two positions and showed the way by the halfway mark. As the laps clicked off, Cianciarulo held down the top spot and did all he could to give points leader Aaron Plessinger a run for his money. In the end, Cianciarulo collected his sixth career 250SX Class victory, but still came up two points short of the title.
"It was a difficult race for me," explained Cianciarulo. "I don't know what it was on the starts today, but for some reason, I just feel like I wasn't getting the same bite like (I was) right off the gate. I think the only difference between this race and other ones in the past—obviously, I'm comfortable on this track, but the whole time I felt like mentally, I was trying to get to the front. I was happy I was able to execute. I had to pass, obviously, some world-class talent, so it was one of my better wins of my career, for sure.
"I'm very disappointed that I won't be out there doing what I love and competing this summer. At the same time, I'm excited to get this behind me so I can be at my very best going into next season and many seasons to come."
Cianciarulo's Pro Circuit teammate and fellow Western Regional 250SX Class Championship competitor Joey Savatgy won his heat race and finished fourth in the main event, good enough for a fifth-place finish in the championship.
"It's been a good season," said Savatgy. "Obviously we went out there to win so these weren't exactly the results we were hoping for, but I'm happy for my teammate and proud of what me and my team have achieved this season."
Weston Peick and Malcolm Stewart finished the 17th race in 18 weeks seventh and 13th, respectively.
"The (end) result wasn't what I was looking for," offered Peick who notched four top fives and 13 top 10s on the season. "After finishing inside the top five several times this year, I wanted to end the series on a high note. I was slightly off on my timing during the start and had to work my way forward. It wasn't easy to pass on the track, but I made it happen. I'm excited to finish the series in sixth (in points), walk away healthy, and move on to the outdoors."
"The goal was to end the Supercross series with another top-10 finish," added Stewart. "I was feeling good on the track, which had some really high-speed sections. I crashed while running third in my heat race. It took the wind out of my sails. Anyway, I'm thankful for the Autotrader/Yoshimura/Suzuki Factory Racing Team for giving me the opportunity in Supercross. It has been fun."
With only two weeks separating the end of the Monster Energy Supercross season from the beginning of the Lucas Oil Pro Motocross Championship, there won't be much downtime as teams prepare for the 12-race outdoor campaign.
The Monster Energy/Pro Circuit/Kawasaki team will be represented by Joey Savatgy, Austin Forkner and newcomer Garrett Marchbanks during the Pro Motocross Championship as the team looks to claim its 11th motocross title in 2018.
The first moto from the Hangtown Motocross Classic from Prairie City SVRA in Sacramento, Calif., will be televised live on MAVTV Sat., May 19 beginning at 4 p.m. Eastern Daylight Time, 1 p.m., Pacific. Television coverage for the second moto will shift to NBCSN at 8:30 p.m. EDT, 5:30 p.m., Pacific.
The world's most prestigious off-road motorcycle racing championship will remain a fixture on NBC, NBC Sports Network (NBCSN), and MAVTV this summer, highlighted by 36 hours of live coverage and more than 70 total hours of Pro Motocross content via broadcast and digital platforms. Live coverage of the opening 450 Class and 250 Class motos from all 12 rounds of the season will be featured on MAVTV, which continues its growth by providing HD broadcast feeds to most subscribers, while NBCSN will carry live second moto coverage from five rounds of the championship.
All 12 rounds of the season will culminate with an exclusive one-hour highlight show on NBCSN. Additionally, NBCSN will produce a special midseason recap and a pair of year-end recaps highlighting all the drama and excitement that took place in both the 450 Class and 250 Class.