We got the chance to sit down with Supercross and motocross privateer Deven Raper to talk about his journey in racing dirt bikes professionally.
Deven Raper is a privateer who knew from an early age that he wanted to follow in the footsteps of those closest to him and pursue a career in professional racing. We sat down to learn a little bit more about the journey of chasing his dream career. Deven, 27, answered a few questions about his career thus far, 2018 goals, role models, his race machine, and more.
Being a professional racer, you are constantly traveling, but where do you call home?
I was born and raised in Mesa, AZ, but made the trek to SoCal as soon as I could. At the age of 16, I finally got my driver's license, and I've been living back n forth from Southern California to Arizona since I was 18. I am now 27 years old, so that is quite a bit of time.
Everyone has a unique story of what drew them to the sport, or made them want a career in racing dirt bikes. What's your story?
I got into racing before I could even remember. My dad and my brother were both professional desert racers, and they were the gnarliest guys to me. My brother was 10 years older than me, and was the fastest AZ desert racer at the time, and for as long as I can remember, all I ever wanted to be was a pro racer.
With any career, there comes low points and high points. What has been the highlight of your career?
So far, the biggest highlight in my racing career would be probably my first main event I've ever made in the 450 class at the New York round in 2015. That was a special breakthrough for me.
In racing, it is so important to be constantly evolving. What changes have you made from last season?
The biggest change for me going into this season is consistency. My life is more stable, my practice bike and race bike are exactly the same, and I've gotten to put a lot of time into my offseason getting to know my bike and self.
What are some of your key sponsors, and how have they played a role in your career?
Every sponsor I have plays a big role in my program, it takes a lot of pieces to complete the puzzle, starting from my title sponsor's Kelly's Kawasaki, who helps me with two bikes a year. RJC Racing and Verve Wellness Center, both out of my hometown Mesa, AZ, are the backbone to get me to races. Top product sponsors that make my bike competitive like JE Pistons, CryoHeat, and Showa Suspension, play a big part in my motors and suspension. Can't thank all my sponsors enough, I wouldn't be able to afford race or be competitive without all of them.
Fan favorite questions, because we all want to know. What's your favorite track? Why?
My favorite track would have to be Glen Helen because you feel like you survived a war if you finish a National there.
Who is your biggest role model in the SX/MX industry?
Growing up my biggest role model was Jeff Emig. He was the underdog, and only guy to beat Jeremy McGrath, plus he rode a Kawasaki like me, had a ton of style, and kept it fun!
How do you keep the bike competitive against the big teams?
Keeping my bike competitive against the factory teams is not easy. The main reason I ride a 450 is because of all the power it comes with stock. Doing little things like throwing in a high compression JE piston and some race gas to make it more responsive on a tight Supercross track makes a huge difference.
Most athletes are constantly looking for an edge to help them get to that next level. What is that for you?
Eat clean, train hard, ride as much as you can, recover well, and make sure your bike is well taken care of so it takes care of you. [That] is the way to get to new levels for me.
What are you looking forward to most in your 2018 season?
I look forward to me and my group of people who support me to just be proud, healthy, and get good results, because it's been years of hard work to get here, and that's what anyone deserves if they've been true to their craft.
Everyone at JE wishes the best of luck to Deven in his 2018 season, and throughout his entire career!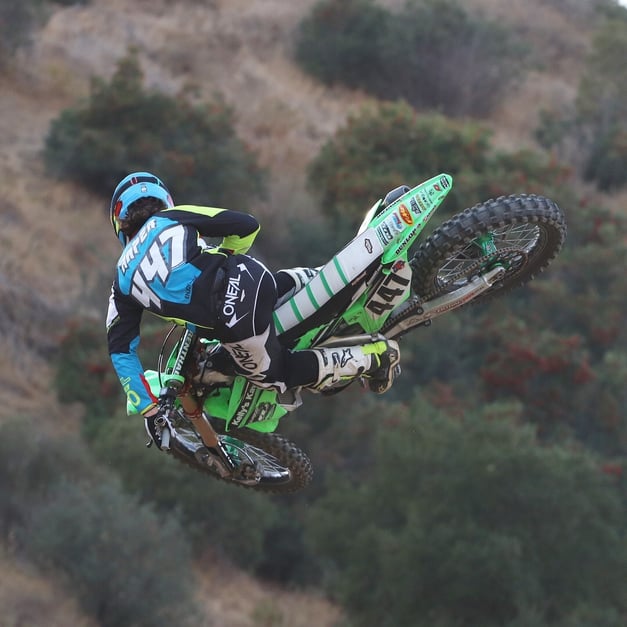 Action photo credit, in respective order from beginning of the article:
Lead photo: Cade Hahn - @cade_661
Eric Philan - @p.h.d.photography
@browndogwilson (2)