JE Pistons is proud to announce we've helped power Adam Cianciarulo and Pro Circuit Racing to the 250 MX Championship. Check out all the details here.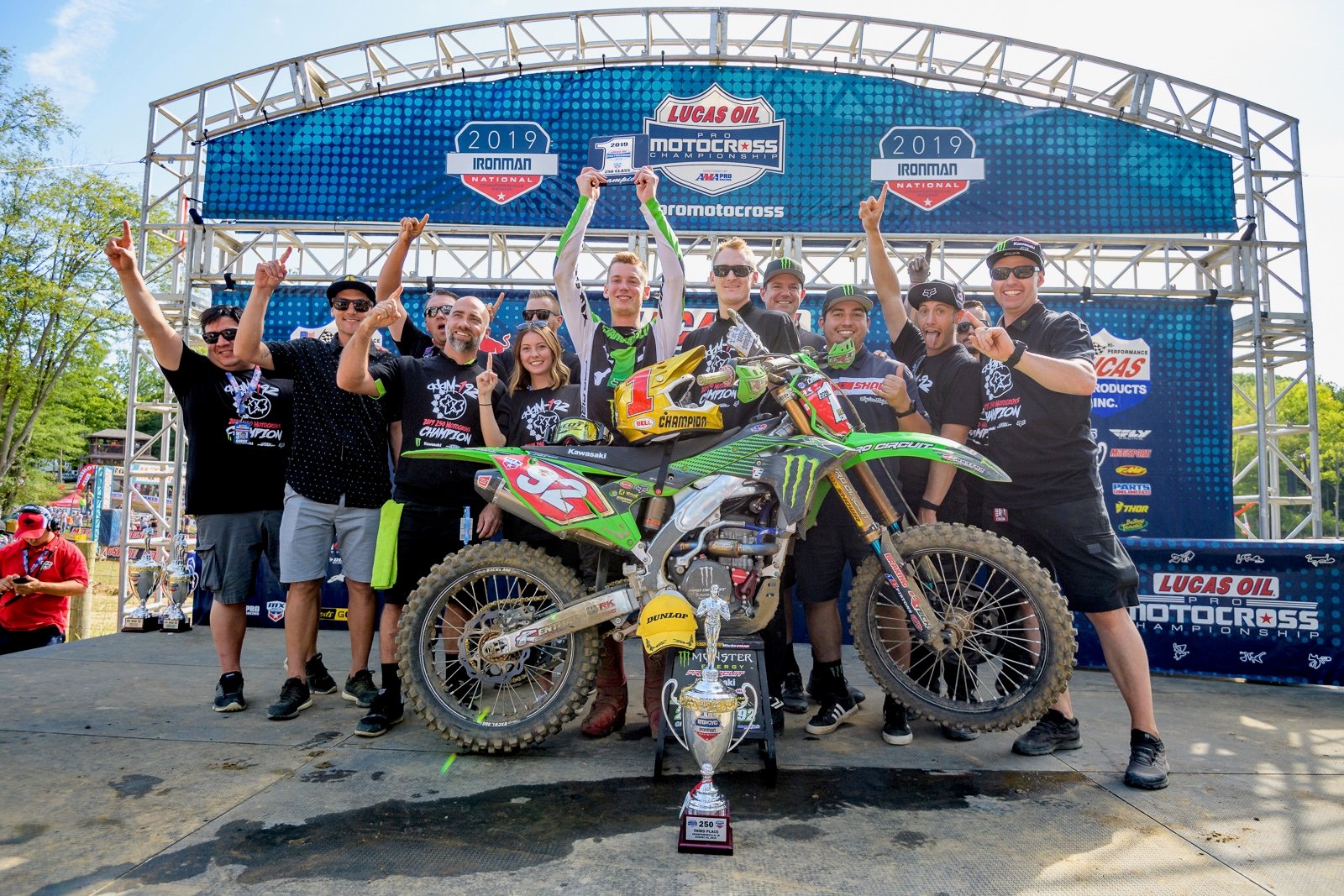 With emotions still running raw after coming up just short of a Supercross Championship a little less than four months ago, Adam Cianciarulo, one of the most celebrated riders of the modern era, was able to wrap up his first Lucas Oil Pro Motocross 250 Class title in Saturday's Lucas Oil Pro Motocross STACYC Stability Cycles Ironman National in Crawfordsville, Ind.
Cianciarulo, rider of Pro Circuit Racing's No. 92 JE-Pistons powered Kawasaki KX250, came into the 12th and final race of the Pro Motocross Championship with a 30-point lead over second-place Dylan Ferrandis in the title chase.
With essentially 21 points separating him from his first professional title, the Port Orange, Fla. rider left nothing to chance by finishing second to Ferrandis in the first moto, thus locking up the championship prior to the second moto of the day.
With only one moto left, and the championship already locked up, Cianciarulo finished fourth to close out the year and earn his 12th consecutive podium finish of the season.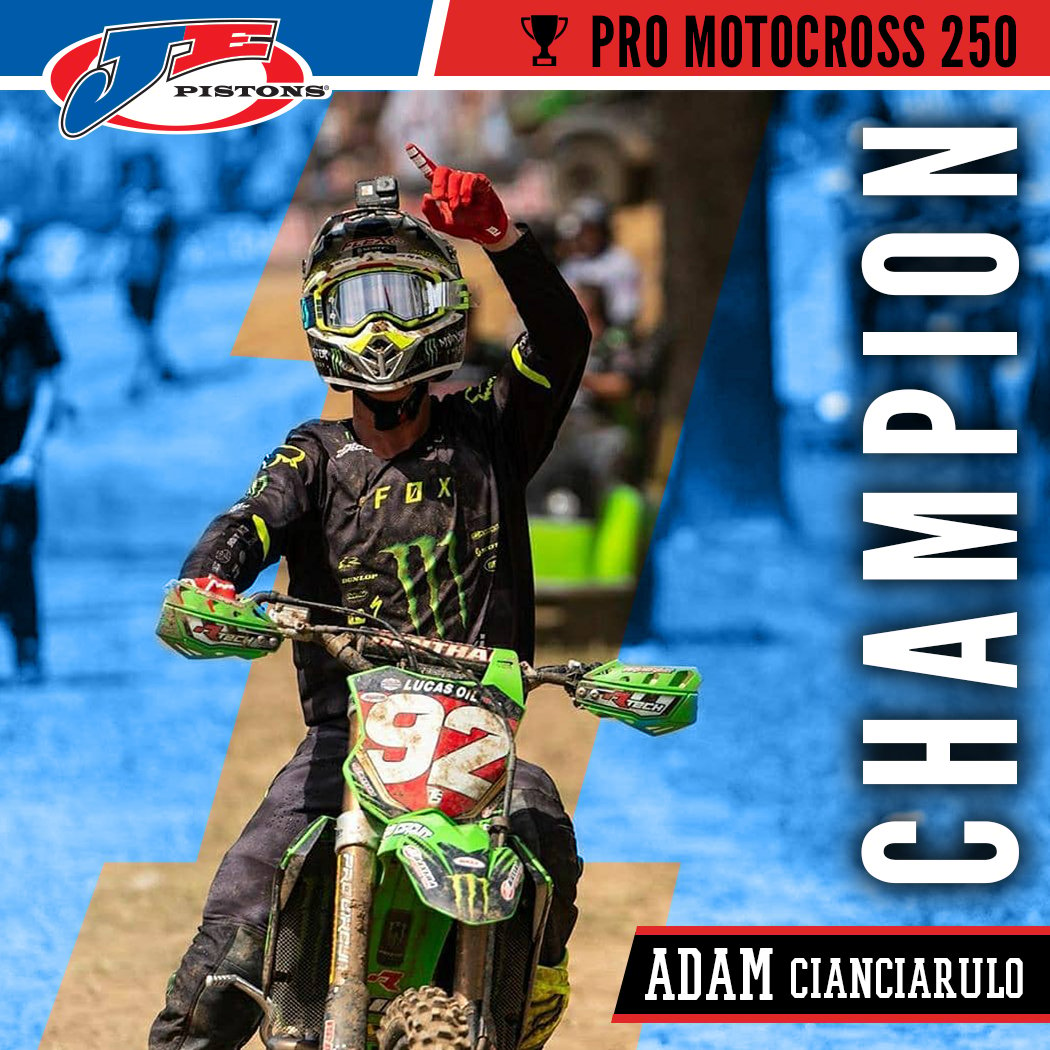 "The road to this championship has been a journey," explained Cianciarulo. "I grew up in the Team Green program and many people had such high expectations, but because of injuries, I've been unable to fulfill those expectations until now. I wouldn't change a thing though. I have learned so much, grown as a person and appreciate this moment more than I could have imagined. I'm just so emotional thinking about this accomplishment my entire Monster Energy/Pro Circuit/Kawasaki team and I have achieved. We have worked so hard for this and I really put my mind to it. I wanted this title so badly, now it's time to celebrate!"
JE Pistons has worked in partnership with Pro Circuit Racing at length to design, engineer and ultimately manufacture the most advanced and reliable pistons in the powersports industry. The most unique component of the relationship continues to offer end-users the opportunity to purchase the same JE/Pro Circuit-engineered pistons Mitch Payton's team of riders depend on in the professional ranks.
"We are beyond excited for Adam and the entire Pro Circuit team," commented Sean Crawford, President of JE Pistons. "We have been working with the Pro Circuit Race Team on piston and engine development since their switch to four-strokes back in 2004. Everyone involved has a true passion for the sport and it's incredibly rewarding to see all the hard work result in another Championship."
Over the course of the 24-moto summer schedule, Cianciarulo recorded seven moto wins, 16 runner-up finishes and 20 top threes. Moreover, the 22-year-old Factory Kawasaki racer never finished worse than fifth in Pro Motocross competition en-route to being awarded his first Gary Jones Cup.
After making his professional debut in 2013, the highly regarded 11-time Loretta Lynn's Amateur Motocross Champion was finally able to steer clear of injuries and secure a long awaited 250 Class title.
In 1991, Pro Circuit Racing formed its first team and since then, has amassed more than 200 American Motorcyclist Association (AMA) victories and counts Cianciarulo's title as its 31st AMA Championship.
The 2019 Supercross and Pro Motocross seasons also marked just the second time in his career, and the first since 2017, Cianciarulo was able to compete in every round on both schedules without being sidelined with injuries. He finished second in the 2017 Supercross Eastern Regional 250SX Class Championship and was this year's Western Regional 250SX Class championship runner up.
"After Vegas, after feeling that low of losing the championship, I came out the first couple of rounds of Pro Motocross with a super-go-for-it mentality, even more so than normal, and just kept the train going. I've always been aggressive but after throwing away the Supercross championship, I feel like I just handed that one away. It was a tough position for me because the narrative was always going to be that I choked it away because I was in a big position and what happened in the end. I just wanted to win this title. Honestly, If I would have won Supercross, I don't know if I'd be here right now. I think it catapulted me to do something I didn't think I could do, which is win this title."
After checking the most important box on his current to-do list, Cianciarulo will move up to the premiere 450 Class in 2020 where he will be paired with defending Monster Energy Supercross and Lucas Oil Pro Motocross Champion Eli Tomac under the Monster Energy Kawasaki team canopy.
Photos credited to Pro Circuit Racing and Michael Antonovich/Swapmoto Live