'Works' race bikes under factory tents at Supercross are not only works of art, but purpose-built machines intended to carry their rider to victory. We got the details on the drool-worthy, JE-powered Suzukis from JGRMX insiders.
The "works" race bikes of the top Supercross stars are unlike anything else found in the world. That couldn't be truer for two-time 450 Supercross champion Chad Reed's Suzuki RM-Z450. There's also no one quite like Chad Reed. Ranked third on the all-time Supercross wins list, and owner of the most Supercross starts in history, Reed knows what it takes to succeed. A seasoned veteran, the Australian demands the most out of his machine.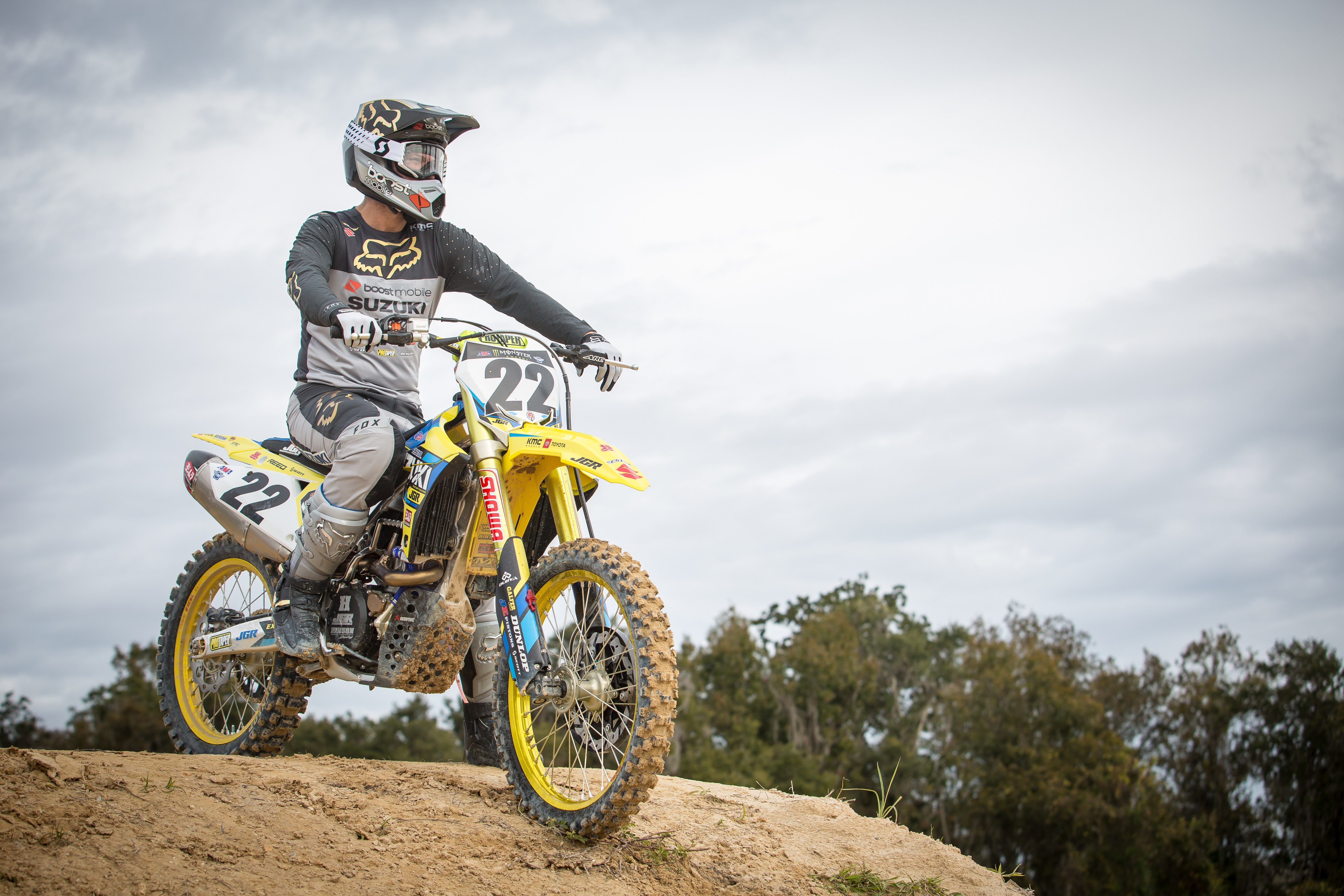 "Speedy" linked up with the JGRMX/Yoshimura/Suzuki Factory Racing Team for the 2019 Monster Energy Supercross series, riding a Suzuki RM-Z450. With the team's factory backing from Suzuki in Japan, and Reed's bike testing expertise, the result is one very trick motorcycle. Below we delve into the components that make Reed's works Supercross bike tick and provide a glimpse into Chad's personal setup preferences. We even reveal a few secrets along the way.
Chassis & Ergonomics
Suzuki unveiled an all-new RM-Z450 in 2018. The Japanese bike received an updated frame, revised engine, Showa conventional spring forks, a new Showa BFRC shock, and radically enhanced styling. The JGRMX rider has two seasons on the newly developed Suzuki RM-Z450 and have learned the intricacies of the four-stroke. They were able to gather even more data when Chad Reed came on board to race Supercross for 2019. Reed has a wealth of knowledge and experience in testing, having raced for a handful of factory teams over the course of his illustrious career. Paired with a talented team of industry professionals in JGRMX, the results have been exciting.
Chad Reed is very particular about bike setup. He knows what he wants, and he isn't afraid to put in countless laps while testing to find the feel that he's looking for. In terms of chassis setup, the 36-year-old runs a -5mm subframe (modified in-house by the JGRMX team in North Carolina). Reed's JGRMX titanium footpegs have also been modified to his favored position.
With regard to controls, Chad's Pro Taper EVO Carmichael bend handlebars are rotated 1mm forward from standard, while the levers are slightly higher than most Pros run. Reed's SMC Japan brake lever is higher than his ARC clutch lever. Something interesting to note is that Chad sets the levers himself and doesn't like to move his handlebars very often. Case in point, Reed's mechanic Ben Schiermeyer team tries not to remove the handlebars from the bar mounts. Reed prefers the feel of Pro Taper's 1/3 waffle soft compound grips.
A motorcycle's rear axle location plays a notable role in handling performance. Generally speaking, a rear axle that is farther away from the engine provides more stability. When the rear axle location is closer to the engine, the shortened wheelbase results in sharper handling. Reed's rear axle is right in the middle. He runs a 49-tooth Pro Taper rear sprocket, which is taller gearing than most riders prefer in Supercross. A 114-link D.I.D. chain is used.
Suspension
A motorcycle's suspension is a vital component to a rider's level of success. JGRMX's suspension tuner, Jonny Oler, has worked with every team rider since the race organization began racing in 2008. That wealth of knowledge pays dividends. It also helps that Chad Reed has so much experience testing with different suspension brands. For 2019, Reed is on Works Showa 49mm spring forks with a Works Showa shock.
Reed is particular about suspension performance, as he should be. When jumping triples, skimming whoops and railing turns at supersonic speed, it's natural for anyone to be specific about what they demand out of their suspension. Suffice it to say that Chad looks for comfort, because with comfort comes confidence and speed.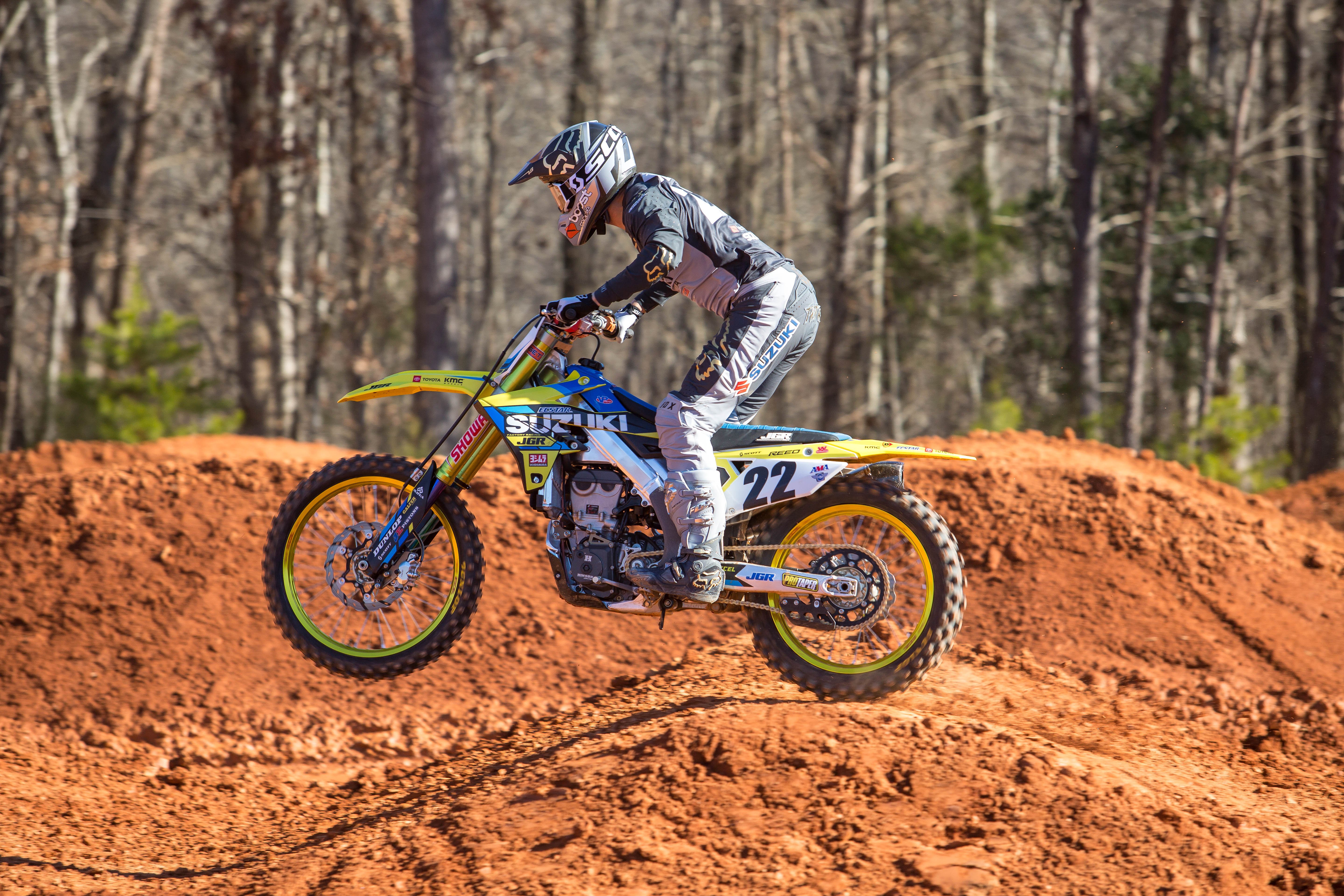 JGRMX's Spencer Bloomer developed an adjustable pull rod years ago, where the team has the option of changing the rod's length by swapping out various pills. The location of each pill hole is different. As a result, the team can run between a 134.5mm up to 137mm rod length (with 0.5mm increments in between those lengths). Reed typically runs a 136mm length, which is 1mm longer than OEM/stock.
Note that the pull rod length that Chad runs is dependent on the linkage knuckle. JGRMX has a plethora of linkage curve options available. In fact, Reed can choose from four different curves. These specialized linkage knuckles are made by SMC Japan, as well as in-house at JGRMX. Regarding triple clamps, Reed prefers the standard OEM/stock offset.
Engine
Chad Reed's engines are developed, assembled, run through on a dynamometer, and installed into the frame at JGRMX. Each engine is a work of art, visually as well as mechanically. The cylinder head modifications are done by JGRMX (although those mods are top secret). The valves come from SMC Japan, along with the engine hardware, transmission, and ECU. The camshafts are done by WebCam, and data acquisition is collected through a GET system. Yoshimura provides a RS-12 titanium exhaust.
The heart of every engine is the piston. Dean Baker, Head Engine Builder at JGRMX, relies on JE Pistons for superior performance. Dean and his crew work closely with JE Pistons' engineers and technical sales support staff to optimize the team's race parts. With the program since its inception, Dean was on the ground floor of four-stroke engine development. The guy knows his stuff.
Baker is always looking for ways to get the most performance out of an engine, and JE Pistons are able to keep up with his demands. As Dean Baker states, "With our new cam settings, it required us to rethink the JE piston that we were using and reconfigure the pocket depths and other dimensions to accommodate the evolution of our new settings."
See more on JE custom pistons here.
Find JE Pistons for your bike here.
One would think that a rider of Chad Reed's caliber would want enough horsepower to dig the Mariana Trench at the drop of the clutch. Truth be told, most professional 450 Supercross racers aren't looking for the type of power that will pull their arms out of the sockets. Supercross requires a deft touch, skilled calculation, and excellent timing. A 100-horsepower engine would do no favors to any Supercross rider.
What type of engine characteristics does Reed prefer? According to Baker, "He wants the engine to be very responsive, yet he demands that it has to be smooth and controllable. Chad and Justin Hill have the same engine and mapping specs; however, Reed drives the direction of mapping development."
Regarding mapping, it's an area that is never left alone. Between the support staff at SMC in Japan and the engine department at JGRMX, the team is constantly working to evolve their mapping to suit changing rider needs, along with different tracks. Baker adds, "Mapping is still evolving. As much as we were fine-tuning in the final days of carburetion, with making new tricks, Electronic Fuel Injection (EFI) is maintaining that same pace of changes. People may think that you put the mapping in the bike and be done with it, but that's not true. EFI is only as good as the transfer of information from data and rider feedback. We're making small improvements on a daily basis."
Uniqueness
Every single component on Reed's JGRMX/Yoshimura/Suzuki Factory Racing RM-Z450 has been analyzed, tested, or touched before the two-time 450 Supercross Champion ever puts Dunlop tires to a Supercross stadium track. No stone is left unturned. It is the responsibility of Chad's mechanic, Ben Schiermeyer, to make sure the 22 machine is ready for battle.
While there's an assortment of parts that most people would geek out at, such as the titanium bolts or Works Showa suspension, it takes a sharp eye to spot some of the truly unique features of Reed's RM-Z450.
What is the most unique SMC Japan part that very few would be able to spot? According to JGRMX Parts Manager, Rene Zapata, "The plastic rear brake caliper guard would catch people by surprise. It's made in Japan, is incredibly durable, and extremely resistant to impact. However, it's not very noticeable."
As for the most expensive part on the bike that most people would be surprised by? "The entire front brake assembly is a marvel," states Zapata. "From the machined front brake lever to the master cylinder, brake line, hardware, caliper and hanger, everything is from SMC Japan. In fact, the only part on the assembly that's OEM/stock is the rubber boot around the master cylinder. Of course, the suspension is also expensive, but most people would know that."
JGRMX pride themselves on designing and developing parts at their home base in North Carolina. While not every piece is noticeable to the naked eye, each matter adds up in the grand scheme of things. After all, one of the fastest Supercross riders in the world can put stress on a motorcycle that very few can.
Zapata pointed out the proprietary JGRMX parts. "We make our own front number plate bracket, GPS antenna holder (a combination of the GPS antenna and data port), titanium ECU bracket, carbon fiber skid plate, GET M40 holder, adjustable pull rod, linkage knuckle, rear brake snake, rear brake pedal (on Justin Hill's bike), titanium footpegs, case saver, fork guard brace, clutch cable holder, condenser bracket, and engine hangers." Most of these parts are made down the street at the Joe Gibbs Racing NASCAR operation, which houses a massive machine shop.
Check out all JGRMX's hard parts and apparel here.
The Right Ride for Chad Reed
The right rider, paired with the right motorcycle and team, makes a big difference between. Two-time 450 Supercross Champion Chad Reed and JGRMX/Yoshimura/Suzuki Factory Racing were able to join forces in 2019. How is the partnership working out? The 36-year-old Australian finished third place at the Detroit Supercross on a JGRMX Suzuki RM-Z450, rewriting the record books once again.