We take a look inside Mark Jager's championship winning, record holding, Time Attack built WRX STi.
If the old expression is true that an ounce of preparation is worth a pound of cure, a gram of experience is worth a metric ton of both, as it applies to building popular late-model Japanese imports into race cars. While plenty of race-winning recipes are have been well documented over the years, the world of time-attack—a take on circuit racing where clocking the fastest lap in a given class is all that matters—is still very much a developing discipline. Thankfully, we have the experience (mistakes, chronic failures, eventual successes) of racer/builders like Mark Jager and his 2006 Subaru WRX STI to learn from.
JE Subaru Line just got better! Check out the Ultra series HERE!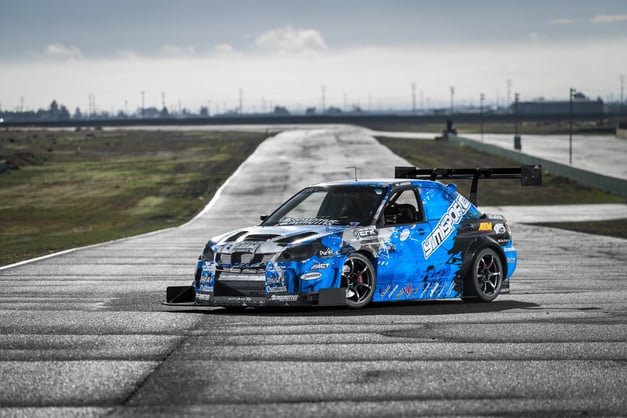 The story of Mark and his STI begins at a Subaru dealership in 2006, the day Mark purchased the car new. Mark's introduction to performance modification and racing began a few years earlier, by way of a Honda Civic sedan he eventually built to blast turbocharged 12-second quarter-mile E.T.s (quick for the day), which quickly outgrew street civility.
Dropping more cash on the Subaru than young Mark was comfortable with kept his desire to take it down the same road as the Civic in check. But the bug had bitten him all the same, and within months Mark's STI began roaming the roads of Southern California's high desert modified with an aftermarket intake, exhaust, springs and swaybars—just how it would stay for the better part of a decade.
Then, in 2012, something happened. Mark's wife had bought him admission to a track-driving school at nearby Willow Springs Raceway the year prior, and Mark got hooked. Drag racing the STI was too predictable and easy to master to make it anything more than an occasion pastime, but track racing was different. The possibilities were endless, and Mark saw that he could comfortably take the car's performance and his skill of driving it much farther than the quarter-mile. He approached the organizers of Extreme Speed Track Events and asked what he could do to help support their efforts in exchange for more track time.

Looking for Subaru Pistons? Click HERE!
That year saw Mark progress from a helping hand emptying trash, setting up cones and learning from Extreme Speed's driving instructors during his free track time (Mark puts the number of track days he ran in 2012 at between 50-60), to becoming an instructor himself and ultimately competing in that year's season-ending Super Lap Battle time-attack competition, finishing fourth place in Street Class and missing third by a scant 2/10th of a second.
Mark's experience to that point had done two things that would work hugely in his favor in the near future. First, it taught him how to compete and left him with a burning desire to win. And second, it introduced him to local Santa Clarita tuners and Subaru specialists Yimi Sport, and frontman Paul Leung. Mark entered 2013 competition with his STI re-tuned on E85 by Paul and suspended by a new set of custom coilovers, and seeming to progress in its build at each subsequent round of competition; a turbo upgrade was done before the second event, more aggressive tune before the third, aero additions and weight reduction before the fourth, and so on.
Between Redline Time Attack rounds, Extreme Speed's AWD comp and various ad-hoc competitions, Mark and his STI set two records that year and won every event in their class, save for one (Super Lap Battle, again), and finished the season making 427 hp from the car's completely stock, original engine. Needless to say, Mark was feeling nothing but confident about the potential of his STI and the track ahead.
But then came 2015.
Plagued with mechanical gremlins, spotty parts availability, bad advice from third-parties (who shall remain nameless), and machining mishaps, Mark went through four engines in 2015 and made it to just one event: Super Lap Battle (again), where he placed third in Limited Class on a completely fresh overhaul of the car with no testing behind it...and left with a blown 630hp EJ engine. One crushing defeat after another, but each of the year's hardships came alongside Mark trying new things and stepping into largely uncharted territory. He was gaining valuable experience with the finicky nature of Subaru flat-four engines, and coming ever-closer to cracking the code of building them for reliable high-HP duty.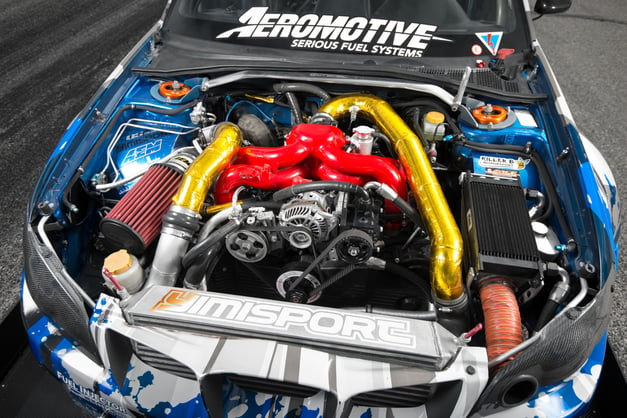 Subaru's horizontally opposed flat-four "boxer" engine design is genius in its inherently balanced arrangement and low center of gravity, and is strong and reliable enough from the factory to enjoy a long life outputting well past its stock power and torque levels with proper tuning. Upgrading to forged JE pistons and rods, and eventually to a closed deck block will elevate those limits, but there comes a point where even the most well-prepped blocks (each comprised of two "case halves" unlike the one-piece block of inline-fours) will begin to flex under high torque loads, leading to rod and main-bearing failure, cylinder-head lifting, sleeve scoring, or even catastrophic engine failure.
But as Mark encountered these cringe-inducing situations, he discovered solutions to overcome them, namely adding an ARP case-bolt set and half-inch head studs, pinning the mains, and switching to JE Pro Seal head gaskets (in addition to those forged internals and closed-deck block mentioned earlier).
This seemingly magical combination, along with some generous head porting, an appropriately sized BorgWarner turbo, Ignite E85 fuel, and high-horsepower/low(er)-torque tuning by Paul at Yimi Sport, netted Mark a reliable 801 hp and 660 lbs-ft of torque coming into 2016. Combined with chassis and interior tuning by Pierce Motorsports, WASP Composites aero gear from Paul and Ramitha "Rami" Edirisinghe (tuned with ride-height sensors, pressure sensors, and an AEM AQ1 data-logging system), a custom dry-sump oiling system, and various suspensions leading to 13kg/mm Mann Engineering single-adjustable coilovers, Mark and his STI won first place in AWD-class competition and Third overall at the inaugural Speed Ring event, set Modified-class records at Streets of Willow and Big Willow with a pair of 1:18.XXXs at each track, and finally won Super Lap Battle outright, running fastest overall in one of the largest fields to date, even ousting a Lamborghini Super Trofeo and clocking the fifth-fastest lap recorded in time-attack history around the Buttonwillow Clockwise 13 configuration.
Despite a seemingly perfect season and build, Mark sees room for improvement. With his STI in pieces receiving a full iWire wiring makeover. Mark and the crew at Outfront Motorsports have taken to the engine once again. The Outfront closed-deck block will stay, but will receive a K1 Technologies crankshaft, BoostLine connecting rods and another set of venerable JE shelf stock pistons, this time in a slightly higher 10.0:1 compression ratio. With a custom BorgWarner EFR 9174 turbocharger and Paul's magic at the Yimi Sport dyno, Mark's hoping to make a little more power and significantly improved reliability, and test his mettle once again at events like the Speed Ring, Super Lap Battle and others, and in series like Redline Time Attack, Global Time Attack, and Gridlife.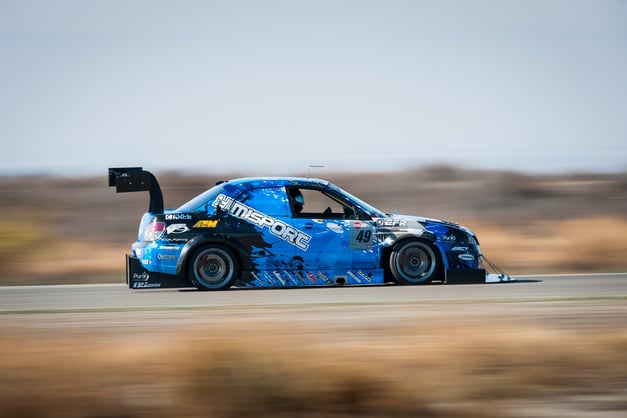 Pretty lofty goals, considering the competition no doubt has the same plans for themselves, but if Mark's experience thus far is as valuable as we think it is, he's got a priceless advantage.
Specifications:
Output:
801 whp / 660 lb-ft of torque
Engine:
Outfront Motorsports closed-deck block; SoCal Porting ported cylinder heads; Supertech Performance valvetrain; GSC Power-Division S2 camshafts; K1 Technologies crankshaft; Wiseco BoostLine connecting rods; 10.0:1-compression JE Pistons; Cusco engine mounts; BorgWarner EFR 9174 turbocharger; AEM intake; Full-Race turbo manifold, up-pipe, down-pipe; Yimi Sport custom exhaust; Vibrant Performance front-mount intercooler; custom Armstrong Race Engine Systems dry-sump oiling system; Purol oils; Fuel Injector Clinic 2,150cc/min fuel injectors; Aeromotive Pro-Series fuel pump, fuel rails; AEM boost pressure, oil pressure, oil temperature monitoring, AQ1 data logger; Koyo radiator, oil cooler; GrimmSpeed four-port electronic boost controller; Cobb Accessport V3; Yimi Sport Tuning engine tuning
Drivetrain:
Subaru six-speed manual transmission; ACT six-puck clutch and Prolite flywheel; OS Giken front and rear differentials
Suspension:
Mann Engineering single-adjustable coilovers; Swift springs; Whiteline front and rear anti-sway bars, roll-center correction kit, anti-lift kit, steering rack bushings, rear differential bushings, lateral links; GT Spec differential brace; ESM Racing solid bushing set; TSS Fab trailing arms
Brakes:
AP Racing big brake kit w/two-piece rotors; Project Mu 999 pads; custom front brake cooling ducts
Wheels/Tires:
18x10.5-inch Yokohama Advan Racing RGIII wheels; 295/35-18 Hoosier A7 tires
Aerodynamics:
WASP Composites front lip splitter; custom Yimi Sport flat-bottom and rear diffuser; APR GTC-1000 swan-neck rear wing, tuned by Ramitha "Rami" Edirisinghe
Safety:
Sabelt GT-300 seat, six-point harness, steering wheel, quick-release hub; Pierce Motorsports roll cage; K1 RaceGear fire suit, gloves, shoes; Hans device