Considered by many to be the most prestigious nostalgia drag racing event in the world, the March Meet at Auto Club Famoso Raceway in Kern County, California celebrated its 60th annual event earlier this month. "It's the first race of our season in the NHRA Heritage Series, so every class that runs in the Heritage Series is there," explains Bobby Cottrell. "And it's probably the most important race of the year, too."
Bobby drives for Austin and O'Brien Racing, and you may remember when we spoke with him late last year about his rookie year with the team. It turned out to be a hell of a season for Cottrell and the Austin and O'Brien Racing, winning five consecutive races along the way before taking the Nostalgia Funny Car title outright after a sixth season win at the NHRA California Hot Rod Reunion. The 2018 season seems to be headed in a similar direction.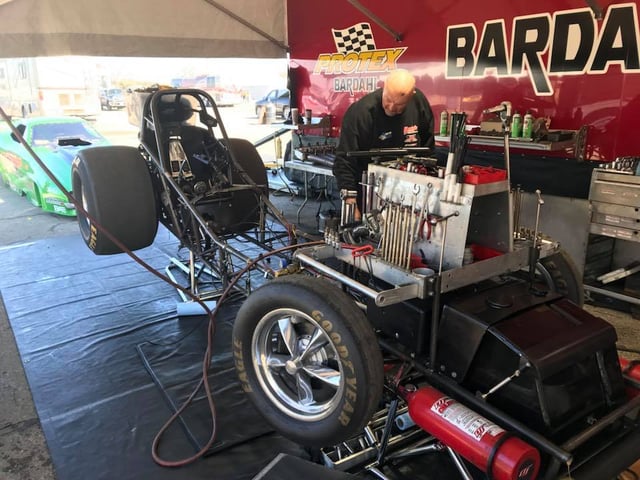 "We qualified number one, and I believe we went low for every round," Bobby tells us. "We just kind of stuck to our program and took one round at a time, trying to be as prepared as we can be for each them. The biggest challenge was the weather, because the track temperature was so cold. In the final round the track temperature was only 51 degrees.
The colder it gets, the harder it is to get those slicks to hook up out of the hole. "Bucky was making adjustments out there at the starting line," Bobby says. "I kind of figured it was going to be a tuner's game – normally we can kind of throw everything at it, because we have temperature in the track. But it being that cold, we had to go into each round with some finesse."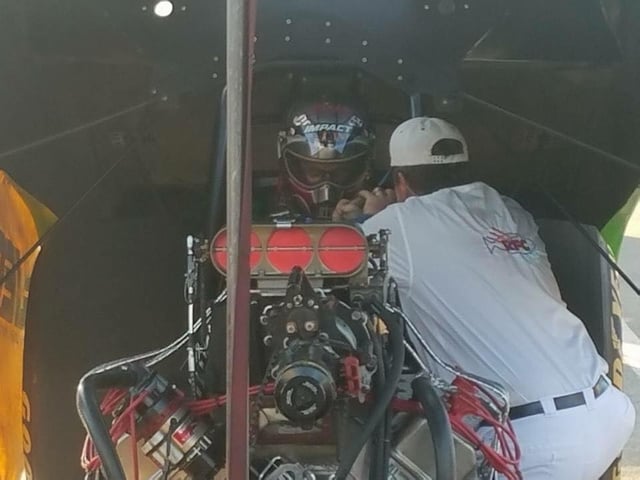 Strategizing launch technique was crucial – particularly in the final round, Bobby explained. "We left the starting line pretty good, but after about 400 feet it started really rattling the tires, so I shifted into high gear. It was really spinning the tires in high gear, but I just kind of hung in there and it went our way." The quickest time for the car at the event was a 5.58 at 259 mph.
Bobby says there's more left in the car. "At this point we're just fine tuning things. I think if Bucky refines it enough, there's a possibility we might be able to run into the 5.40s."
The 426ci, Brad Anderson–built Hemi that powers the Austin and O'Brien Racing '69 Camaro Funny Car uses a similar setup to last season, including the JE pistons. "The pistons actually held up really well," Bobby says. "We abused a few of them this race because the air was so good, but that's just kind of the name of the game when it's that cold."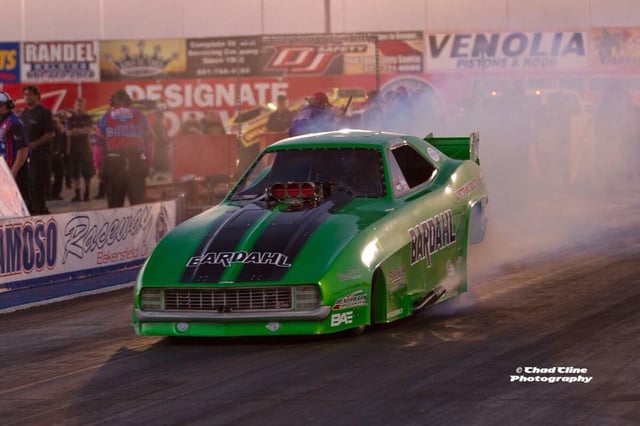 As for the rest of the season, it looks like the team has hit their rhythm early. "I think Bucky and I work really well together in terms of feedback and how we setup the car based on what it did during the previous run," Bobby says. "The whole team really just works well together, and each of us has our own job – I do right cylinder head, Mike O'Brien does left cylinder head, Weiner and Becky do the bottom end, while Ken, Buzz and Becky do all the fine adjustments. Travis, who is Bucky's son in law, does the strong arm work – he's a big dude. And we've got Heidi, Bucky's daughter, she's my back-up girl and she does an awesome job. The whole team runs like a fine Swiss watch."