The V12 LS engine of Matt and Shane Corish met its partner in cool between the fenders of the radically custom, 1967 Camaro of Mike Heim.
Matt and Brother, Shane, Corish took a racing idea from the bench all the way to production with their LS-based V12 engine. What started life as two, Holden LS1 V8s welded bow to stern, has morphed into a one-piece, proprietary block casting that will soon be offered in longblock, turnkey crate, or builder (bare heads, block, crank, cam) configurations.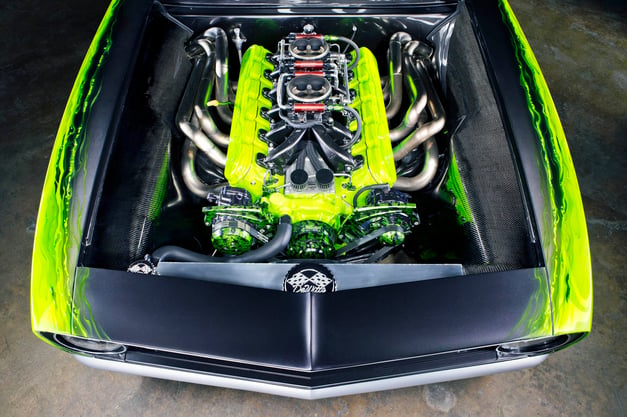 The engine has met its partner in cool, in the engine bay of Quality Custom Rides owner, Mike Heim's 1967 Camaro. At the 2017 SEMA show, a virtual sea of first-generation Camaros, this one stood out with its radically chopped roof, killer stance, and of course, the V12 LS under the hood. The engine in the Camaro is LS1-based with K1 connecting rods, and a set of shelf-stock JE LS pistons. Other iterations of the V12 LS will feature a big-bore configuration with high-flow LS7-based cylinder heads.
For the full story on the build, check out the feature on HOT ROD Magazine's website, or for more information on the engine visit V12 LS.