This 350Z is now equipped with a 2JZ motor that will be making 1200+ HP. Check out this unique build here.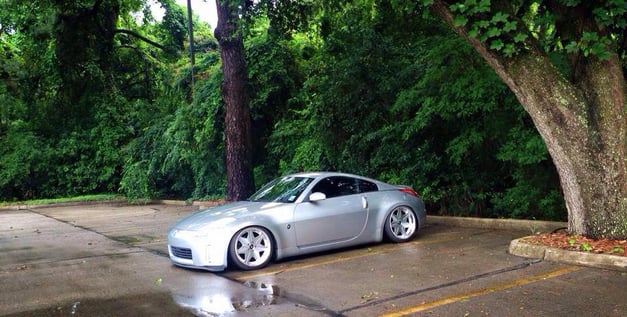 "When this project began, it was supposed to be a reliable 750 horsepower build," explained Chris Charles of Lafayette, Louisiana. "But the snowball effect happened – the parts list and power goals just continued to grow." Originally, Charles' plan was to drop the warmed-over 2JZ into an S14 generation Nissan Silvia, but that idea was scrapped along the way, as he wanted something a little out of the norm.
With output estimates in the range of 1200-1300 rear-wheel horsepower on E85/E98, it's not likely he'll run into many similar builds at local shows any time soon. The 2JZ spec sheet consists of a billet main, 9.5:1 compression JE pistons hooked to Pauter connecting rods, GSC Power-Division Billet 2JZ-GTE S2 camshafts, a Sleep Designs billet intake manifold, and a fully built and ported head.
Boost comes from a QSV setup that utilizes a Precision GEN2 GT42-7675 turbocharger. "There is also a dry shot of nitrous to further assist with turbo spool," he added, "and the whole car is being controlled by a ProEFI 128 box." That prodigious grunt gets routed through a six-speed GR1000 transmission with a Grannas Racing Clutchmasters triple-disc clutch.
Charles also explained that to get to this level of performance, he essentially started from scratch. "I got the motor about as bare as they come," he explained. "A bare block and a practically bare head. So from where it was to where it is now, it came a long way. And as far as the pistons go, I chose these 86.5mm (.020 over) 9.5:1 compression slugs due to the fact that JE has a reputation for reliability and because they're offered with both crown and skirt coating along with the upgraded thick wall wrist pin."
Although there's undoubtedly motorsport-spec hardware in play here, he says it's going to remain a street car with a full interior, air conditioning, radio, power-assisted steering and so on. But it's definitely riding that line, as evidenced by the quarter panels that needed to be widened by about two inches in order to accommodate the 28" Mickey Thompson radials he's using on the rears, which are wrapped around 15x10.5 wheels. He's also building another 2JZ bottom end use as a spare, which will consist of a lightweight billet crank, Diamond Racing 10:1 compression pistons, billet mains, and Wiseco BoostLine connecting rods.
Charles says that while he took on a few autocross and drift events when the Nissan was in largely stock form, he'll be looking step things up this year. "The plan is to attend some of the bigger events and do some half mile and 1/4 mile racing," he said. "Maybe even some roll racing."